Launches Acadia® Extruding Base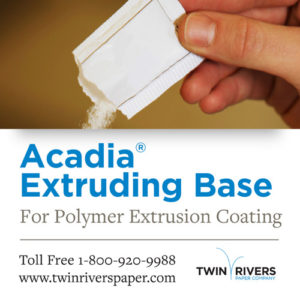 South Portland, ME February 14, 2013 – Twin Rivers Paper Company, a leader in lightweight specialty packaging, label and publishing papers, expands its footprint in the specialty packaging market through the introduction of Acadia® Extruding Base. This uncoated, machine-finished paper is ideal for polymer-extrusion coating applications such as sugar packets, salt and pepper packets, flavor packets, freezer papers, and dried soup pouches.
Acadia® Extruding Base offers optimal strength, printability and runnability for package designs. It maintains its stiffness and stability when laminated to other substrates and is optimized for converting and filling efficiency. FDA compliant for direct and indirect food contact, it is available in natural fiber and custom color options.
"We are committed to broadening our reach in the specialty packaging markets," says Dave Deger, Director of Business Development and Marketing. "Acadia® Extruding Base offers our customers a high performing solution for their extrusion coating applications backed up by over 20 years of specialty packaging expertise."
****************************
Editorial Contact:
Louise C. Merriman
Director of Communications
(207) 523-2360
Email: 
Twin Rivers Paper Company is an integrated specialty paper company that manufactures packaging, label and publishing products for targeted markets and applications. The company has operations in Maine and New Brunswick. For more information, visit us on the web at www.twinriverspaper.com.