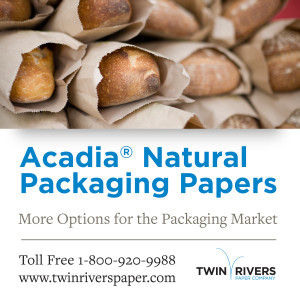 Acadia® Natural Brings More Options to the Packaging Market

South Portland, ME November 6, 2012 – Twin Rivers Paper Company, a leader in lightweight specialty packaging, label and publishing papers, answers the market need for more environmentally-responsible packaging by expanding its Acadia® Natural portfolio to include basis weight offerings as low as 18 lb and up to 50 lb. Acadia® Natural, a fully recyclable and compostable packaging paper, is made from unbleached pulp and offers an environmentally-friendly alternative for packaging applications such as bread bags, carry-out bags, fast-food sandwich wraps, french fry bags and basket liners.

"The demand for sustainable packaging is growing and Twin Rivers is well-positioned to meet this demand with both our portfolio and our ability to codevelop products tailored to the unique needs of the packaging market. By broadening our product offering we are able to support lightweight initiatives as well as serve a broader set of end-use applications," says Dave Deger, Director of Business Development and Marketing. 

Acadia® Natural is an ideal solution for food service, retail-food applications and Quick Serve Restaurants (QSR). It offers excellent runnability, printability, sustainability and FDA-compliance, while available in both a standard and an oil and grease-resistant (OGR) option up to kit 7.

********************

Editorial Contact:
Dave Deger
Director, Business Development and Marketing
(207) 523-2355
Email:

Twin Rivers Paper Company is an integrated specialty paper company that manufactures packaging, label and publishing products for targeted markets and applications. The company has operations in Maine and New Brunswick. For more information, visit us on the web at www.twinriverspaper.com.