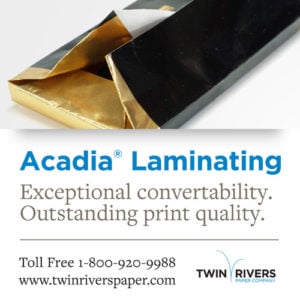 South Portland, ME February 28, 2013 – Twin Rivers Paper Company, a leader in lightweight specialty packaging, label and publishing papers, expands its specialty packaging options with the release of a high performance laminating base paper, Acadia® Laminating. This uncoated, machine-finished paper is engineered to deliver optimal uniformity and smoothness to perform under the most demanding laminating conditions. Available in a broad range of basis weights, it is ideal for foil-laminated applications such as candy bars, bags, hamburger wraps, sandwich wraps and gift wraps.

"We recognize the importance of having a rich product portfolio and giving our customers more options for their converting or end-use applications. Acadia® Laminating is one of the many packaging options we will be launching in 2013," says Dave Deger, Director of Business Development and Marketing at Twin Rivers Paper Company.

Twin Rivers' packaging papers are known for their excellent printability and convertability, with high performance in secondary processes such as coating, waxing, foil and film laminating, and metallizing. Acadia®, an uncoated machine-finished paper, is available in a basis weight range of 15-75 lbs. and Bladepak® C1S coated paper is available in a basis weight range of 35-73 lbs. All are FDA-compliant, meeting the requirements for direct food contact.

********************

Editorial Contact:
Dave Deger
Director, Business Development and Marketing
(207) 523-2355
Email:

Twin Rivers Paper Company is an integrated specialty paper company that manufactures packaging, label and publishing products for targeted markets and applications. The company has operations in Maine and New Brunswick. For more information, visit us on the web at www.twinriverspaper.com.