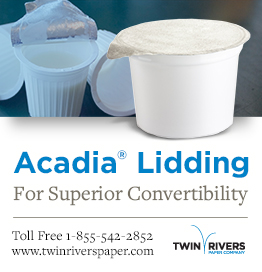 Delivers Superior Convertibility for Lidding Applications

South Portland, ME March 14, 2013 – Twin Rivers Paper Company, a leader in lightweight specialty packaging, label and publishing papers, releases Acadia® Lidding, an uncoated, high-finish packaging paper for lidding applications. Acadia Lidding provides the smoothness and blister-resistant characteristics that ensure optimal convertibility for applications such as yogurt and creamer lids.

"We are committed to developing products that meet the unique needs of our customers. The release of Acadia Lidding reflects our ongoing commitment to the specialty packaging market segment," says Bruce Wellman, Director of Product Development, R&D and Technical Services.

Twin Rivers offers a comprehensive portfolio of specialty packaging papers that are known for their excellent printability and convertibility, with high performance in secondary processes such as coating, waxing, foil and film laminating, and metallizing. Acadia®, an uncoated machine-finished paper, is available in a basis weight range of 15-75 lbs. and Bladepak® C1S coated paper is available in a basis weight range of 35-73 lbs. All are FDA-compliant, meeting the requirements for direct food contact.

********************

Editorial Contact:
Dave Deger
Director, Business Development and Marketing
(207) 523-2355
Email:

Twin Rivers Paper Company is an integrated specialty paper company that manufactures packaging, label and publishing products for targeted markets and applications. The company has operations in Maine and New Brunswick. For more information, visit us on the web at www.twinriverspaper.com.